SHARE ON







FOLLOW US ON


John Wayne Western Movies to Watch Free – page five.
Riders of Destiny
John Wayne – The Night Riders 1939 Full Length Western Movie.
Starring – John Wayne, Ray Corrigan, Max Terhune
Star Packer Starring John Wayne
Watch John Wayne western movie free online From 1934 A gang working for The Shadow is terrorizing the town. John Travers decides to take on the job of sheriff and do something about it.
John Wayne as U.S. Marshal John Travers
George "Gabby" Hayes as Matt Matlock (as George Hayes)
Verna Hillie as Anita Matlock, Matt Matlock's Niece
Yakima Canutt as Yak, Travers' Indian Sidekick
Billy Franey as Henchman in the stump
Eddie Parker as Henchman Parker (as Ed Parker)
Earl Dwire as Henchman Mason
Thomas G. Lingham as Sheriff Al Davis (billed as Tom Lingham)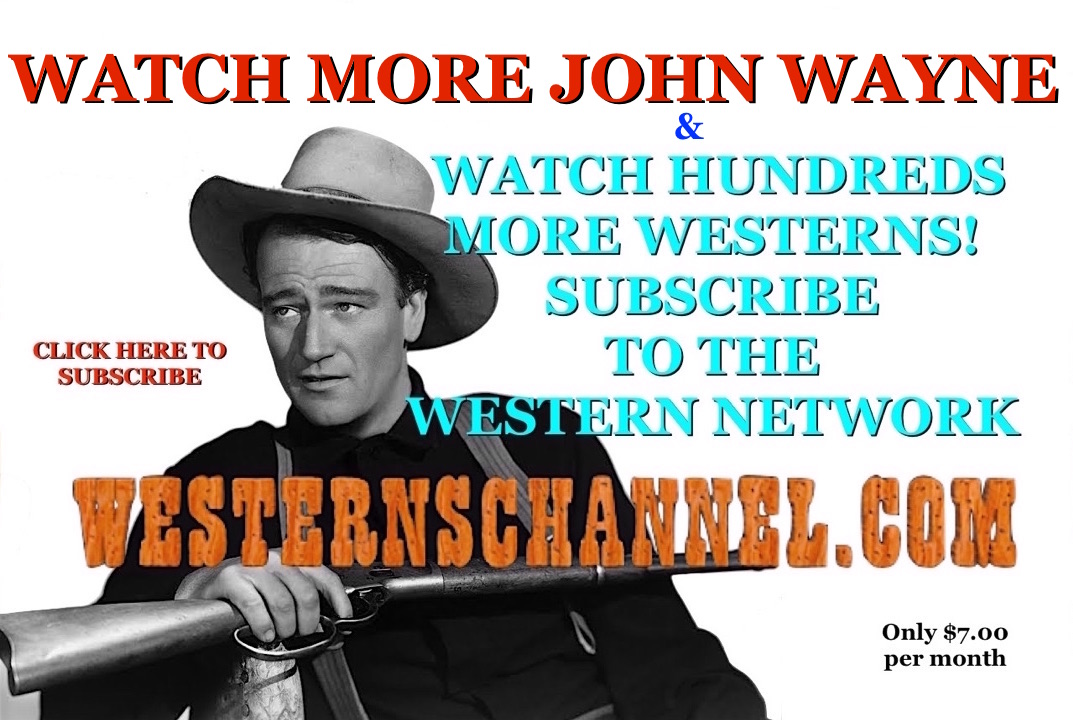 Texas Terror John Wayne western movie watch free online Full Movie
Watch free movies and TV show westerns online. From 1935 Sheriff John Higgins quits and goes into prospecting after he thinks he has killed his best friend in shooting it out with robbers.
John Wayne as John Higgins
Lucile Browne as Bess Matthews (billed as Lucille Browne)
LeRoy Mason as Joe Dickson (billed as Leroy Mason)
Fern Emmett as Aunt Martha Hubbard
George "Gabby" Hayes as Sheriff Ed Williams (billed as George Hayes)
Jay Wilsey as Blackie Martin (billed as Buffalo Bill Jr.)
John Inceas Blacksmith Bob
Henry Roquemore as Dance MC (billed as Henry Roguemore)
Jack Duffy as Jake Abernathy
Frank Ball as Dan Matthews (uncredited)
Bert Dillard as Red (uncredited)
Julia Griffith as Gossipy Party Guest (uncredited)
Jack Jones as Townsman (uncredited)
Bobby Nelson as Chief Black Eagle's Son (uncredited)
Bert O'Hara as Musician (uncredited)
Artie Ortego as Indian (uncredited)
George Ovey as Extra at Dance (uncredited)
Tex Palmer as Posse Rider (uncredited)
Tex Phelps as Henchman (uncredited)
Bud Pope as Henchman (uncredited)
The Dawn Rider starring John Wayne
Watch free movies and TV show westerns online. Here is another western full of boots, saddles, cowboy hats, leather, saddles, fast horses, wagons, stunts, superhero, action, chase scenes, stagecoaches, old west towns and beautiful landscapes. View this wonderful movie here on Westerns On The Web free. Enjoy watching hundreds of movies and TV shows free online with the biggest stars ever in Hollywood. Watch John Wayne western movie free online. John Mason chases after his father's killer, an outlaw who remains elusive until he is tricked into revealing himself with a decoy gold shipment. To complicate matters, the killer is the brother of Alice, the woman with whom Mason has fallen in love. Alice begs Mason not seek vengeance, but a showdown is inevitable. A remake of this film in 2012 cast Christian Slater in the role of John Mason.
John Wayne as John Mason
Marion Burns as Alice Gordon
Dennis Moore as Rudd Gordon
Reed Howes as Ben McClure
Joseph De Grasse as Dad Mason
Yakima Canutt as Saloon Owner
Earl Dwire as Pete (Expressman)
Nelson McDowell as Bates (Undertaker)
The Lawless Frontier John Wayne Western
From 1934 Mexican outlaw Zanti killed John Tobin's parents. John teams up with Dusty, also hurt by Zanti, to get the bad guy.
Watch free John Wayne movies and TV show westerns online. Here is another western full of boots, saddles, cowboy hats, leather, saddles, fast horses, wagons, stunts, superhero, action, chase scenes, stagecoaches, old west towns and beautiful landscapes. View this fantastic western movie here on Westerns On The Web free. Enjoy watching hundreds of movies and TV shows free online with the biggest stars ever in Hollywood. Watch John Wayne western movie free online.
John Wayne as John Tobin
Sheila Terry as Ruby
Jack Rockwell as Marshal John B. Walton
George "Gabby" Hayes as Dusty (as George Hayes)
Jay Wilsey as 2nd Zanti Henchman (as Buffalo Bill Jr.)
Yakima Canutt as Joe, Zanti's Henchman
Gordon De Main as Deputy Miller (as Bud Wood)
Earl Dwire as Pandro Zanti, alias Don Yorba