FOLLOW US ON


SHARE ON







John Wayne Western Movies to Watch Free.
Angel and the Badman John Wayne western movie.
Quirt Evens an all round bad guy is nursed back to health and sought after by Penelope Worth a quaker girl. He eventually finds himself having to choose between his world and the world Penelope lives in. John Wayne, Gail Russell, Harry Carey and Bruce Cabot. With commentary by Bob Terry.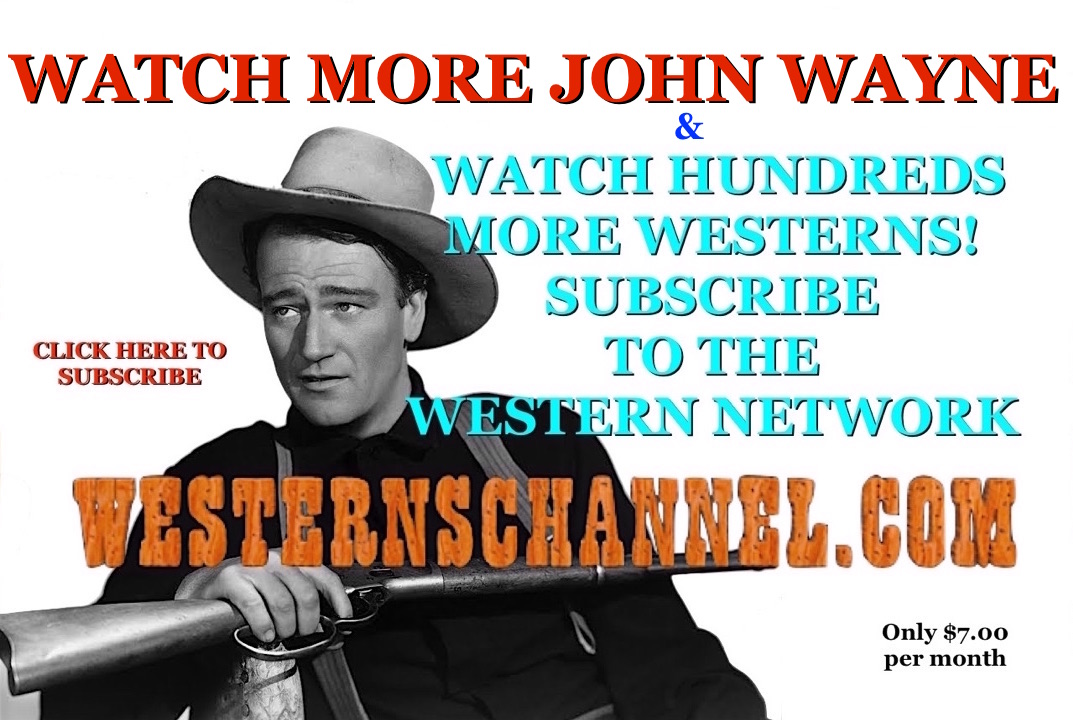 The Comancheros (1961) Western Movie John Wayne
3 Godfathers is a John Wayne western we have had.
3 Godfathers is a 1948 American western film directed by John Ford and filmed (although not set) primarily in Death Valley. The screenplay, written by Frank S. Nugent and Laurence Stallings, is based on the novelette of the same name written by Peter Kyne. Ford had already adapted the film once before in 1919 as Marked Men. The original silent adaptation by Ford is thought to be lost today.
John Wayne as Robert Marmaduke Hightower
Harry Carey Jr. as William Kearney "The Abilene Kid"
Pedro Armendáriz as Pedro "Pete" Fuerte
Mildred Natwick as Mother
Ward Bond as Perley "Buck" Sweet
Mae Marsh as Mrs. Sweet
Jane Darwell as Miss Florie
Guy Kibbee as Judge
Hank Worden as Curley
Sometimes we have Red River starring John Wayne.
Also with Montgomery Clift, Joanne Dru and So many more. Walter Brennan, John Ireland, Harry Carey Sr., Harry Carey Jr., Hank Worden, Noah Berry Jr., Coleen Gray and so many more. Released in 1948 this is many peoples favorite western movie still today.
Stagecoach starring John Wayne and Clair Trevor.
A group of people traveling on a stagecoach find their journey complicated by the threat of Geronimo and learn something about each other in the process. This is where the famous loop winchester first appeared and where Yakima Canutt did his amazing stunt with the coach!
McLintock John Wayne and Maureen O'Hara directed by Andrew V. McLaglen
This wonderful COLOR John Wayne Western is from 1963 and has a great cast and fantastic story.
Filmed in and around old Tucson
The cast includes –
John Wayne as George Washington "G.W." McLintock
Maureen O'Hara as Katherine McLintock
Patrick Wayne as Devlin Warren
Yvonne De Carlo as Louise Warren
Stefanie Powers as Becky McLintock
Jack Kruschen as Jake Birnbaum
Chill Wills as Drago
Edward Faulkner as Young Ben Sage
Jerry Van Dyke as Matt Douglas Jr.
Edgar Buchanan as Bunny Dull
Bruce Cabot as Ben Sage
Perry Lopez as Davey Elk
Michael Pate as Puma
Strother Martin as Agard
Gordon Jones as Matt Douglas
Robert Lowery as Gov. Cuthbert H. Humphrey (a reference to Hubert H. Humphrey)
Leo Gordon as Jones
Hank Worden as Curly Fletcher
Mari Blanchard as Camille
Chuck Roberson as Sheriff Jeff Lord
Bob Steele as Train Engineer
Aissa Wayne as Alice Warren
This is a wonderful full length classic western movie. With a great cast. Classic western movie to watch from the golden age of Hollywood. Great actors and actresses. This wonderful western has a good bit of influence from William Shakespeare's comedy The Taming Shrew.
Big Jake.
Flame of Barbary Coast 1945 JOHN WAYNE Full Length Western Movie.
uploaded to Dailymotion
by
Mov-ie
in
2016
Circus World.
Legend of the Lost.
John Wayne Dean Martin values
An interview visit with Dean Smith about EL DORADO John Wayne western movie
Below is the trailer to El Dorado and it does show a part of the scene with Dean Smith and James Caan.