SHARE ON







FOLLOW US ON


Northwest Passage – western TV show. Keith Larsen, Buddy Ebsen, Don Burnett, Philip Tonge. SORRY THERE ARE FEW EPISODES OF THIS WESTERN TV SERIES AVAILABLE ONLINE AT THIS TIME!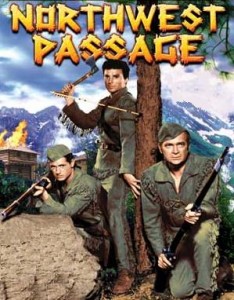 A 26-episode half-hour adventure television series about Major Robert Rogers during the time of the French and Indian War (1756–1763). Major Robert Rogers organized "Rogers Rangers" to search for the alleged waterway across the United States during the French and Indian War. The show derived its title and the main characters Rogers, Towne, and Marriner from the 1937 novel of the same name by Kenneth Roberts, and from the 1940 MGM feature film based on the novel. The scope of the novel was much broader than that of the series and the second half of the book included an historically based attempt by Rogers to find a water route through North America as a "passage" to the Pacific Ocean. This attempt, lending its name to the novel and used by Roberts as a metaphor for the questing human spirit, is referenced in the first episode.
One of the earlier series telecast in color, Northwest Passage aired new episodes on NBC from September 14, 1958, to March 13, 1959.
Episode Guide to the Northwest Passage – western TV show.
S1, Ep1
14 Sep. 1958 Fight at the River
S1, Ep2
21 Sep. 1958 The Red Coat
S1, Ep3
28 Sep. 1958 The Gunsmith
S1, Ep4
5 Oct. 1958 Surprise Attack
S1, Ep5
12 Oct. 1958 The Bound Women
S1, Ep6
19 Oct. 1958 Break Out
S1, Ep7
26 Oct. 1958 Court Martial
S1, Ep8
2 Nov. 1958 The Hostage
S1, Ep9
9 Nov. 1958 Sorrow Song
S1, Ep10
16 Nov. 1958 The Assassin
S1, Ep11
23 Nov. 1958 The Long Rifle
S1, Ep12
30 Oct. 1958 War Sign
S1, Ep13
7 Dec. 1958 The Traitor
S1, Ep14
21 Dec. 1958 Vengeance Trail
S1, Ep15
28 Dec. 1958 The 'Vulture'
S1, Ep16
2 Jan. 1959 The Counterfeiters
S1, Ep17
9 Jan. 1959 The Secret of the Cliff
S1, Ep18
16 Jan. 1959 Dead Reckoning
S1, Ep19
23 Jan. 1959 Death Rides the Wind
S1, Ep20
30 Jan. 1959 The Fourth Brother
S1, Ep21
6 Feb. 1959 The Ambush
S1, Ep22
13 Feb. 1959 The Witch
S1, Ep23
20 Feb. 1959 Stab in the Back
S1, Ep24
27 Feb. 1959 The Deserter
S1, Ep25
6 Mar. 1959 Trial by Fire
S1, Ep26
13 Mar. 1959 The Killers