SHARE ON







FOLLOW US ON


If you would truly like to see more western programing produced then help make it happen by being a WesternsTV Paid Subscriber and have access to special features and programs.
The pages below are for the WesternsTV paid subscribers only. The Monthly subscription fees will be going toward creating new western programing.
ONLY $7.00 PER MONTH
The more paid subscribers we acquire the more programing we can create.
AFTER PAYING FOR YOUR SUBSCRIPTION YOU WILL BE SENT A PASSWORD BY EMAIL.
MAKE SURE TO SPREAD THE WORD AND TELL YOUR FRIENDS.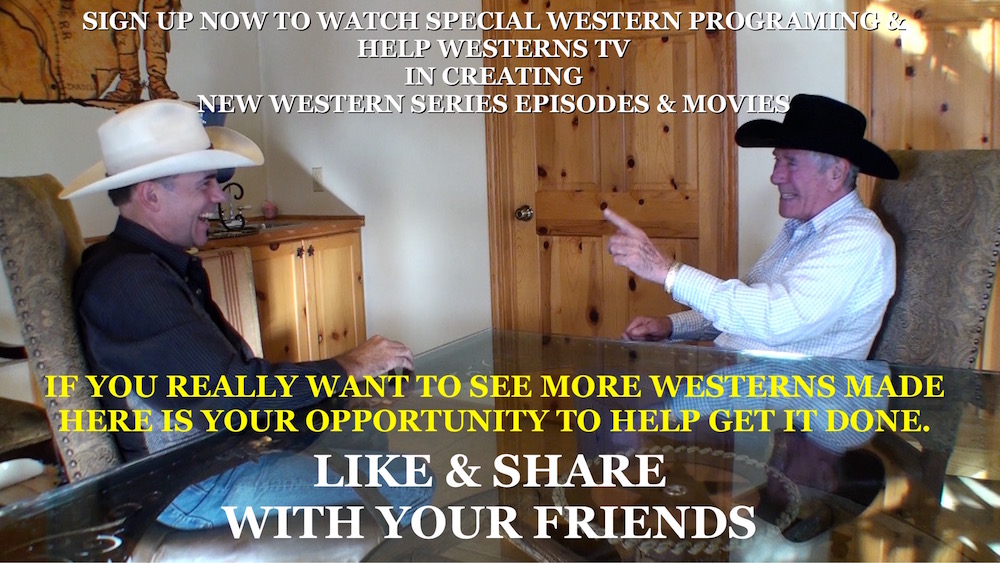 Filming, editing, leasing film locations, hiring stagecoaches, wagons and drivers are just a few of the expenses in producing an original western production.
Westerns TV is an online network owned and operated by
Wild West Toys and Westerns On The Web productions.
Westerns On The Web has a proven track record of producing Original Western Entertainment.
Some of our productions include.
THE FORSAKEN WESTERNS

(western tv show episodes that have never been broadcast or may not have been aired in as many as 65 years hundreds of classic tv shows are being rescued for this series)
LOST TREASURES OF THE OLD WEST

(old west mysteries and legends of treasures that still wait to be discovered, maybe by you)
WESTERN TRAILS

(travel and talk show with special guests and events who help preserve the American West)
SUNDOWN

(original classic tv type western series)
Westerns On The Web also has

hundreds of classic western movies

and

thousands of classic western tv show episodes.
Westerns TV is also looking into getting apps developed that can be downloaded for smart tv and mobile devices.
ORIGINAL PRODUCTIONS WESTERNSTV IS INTERESTED IN PRODUCING with funds received from subscribers.
A FULL LENGTH FEATURE WESTERN MOVIE. (when WesternsTV acquires 1000 subscribers we will start production on a full length feature film)
NEW EPISODES OF SUNDOWN (with the budget to give the series the polish of the classic tv westerns)
THE FORSAKEN WESTERNS (subscribers would be helping with the restoration and digital transfer of neglected western tv show episodes. some of these are still only known to be on a few existing 35mm, 16mm or 8mm film and if copies are not transferred to digital soon some of these films could deteriorate beyond rescuing and be lost forever.)
WESTERNS TV WOULD ALSO LIKE TO HEAR FROM OUR PAID SUBSCRIBERS ON WHAT WESTERN ENTERTAINMENT THEY WOULD LIKE TO SEE PRODUCED.
Thank you for helping preserve the Westerns.